ptp20230412026 Unternehmen/Wirtschaft, Umwelt/Energie
Pow(d)er for Europe
New Heat Treatment Cooperation for Battery Materials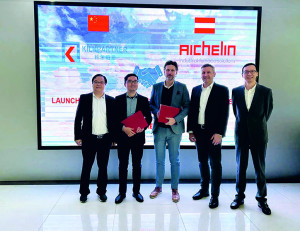 After signing the contract (Copyright: AICHELIN Holding GmbH)
Mödling (ptp026/12.04.2023/11:50)
Austria's AICHELIN Ges.m.b.H. secures important developments for Europe's battery industry thanks to a strategic partnership with Chinese company KILNPARTNER, thus supporting the transformation towards e-mobility.
Increasing the range of battery-powered vehicles and the increase in energy density that comes with it, while reducing the dead weight of the lithium-ion batteries used is high on the agenda of battery manufacturers and the automotive industry - a compelling argument that will convince many to switch to electromobility.
What most don't know: The thermal processes used to treat the essential components of Li-ion batteries represent a key technology in this process. These include the cathode as LFP (lithium iron phosphate) or NMC (nickel manganese cobalt) and the active anode material. Only through a highly accurate heat treatment can the crystal structure and morphology of the material be trimmed to "peak performance". To be able to achieve this ambitious goal, each manufacturer has their own closely guarded process secrets. The common basic requirement is flexible and reliable plant technology, the so-called "kilns".
Precise and reproducible thermal processes - this has been AICHELIN Group's specialty for 155 years now. Originally at home in the heat treatment of iron and steel, where AICHELIN has been a pioneer in plant and process technology for decades, the company has been looking for additional fields of application for its extensive experience in heat treatment for some years now.
The Chinese company KILNPARTNER has gained an excellent reputation on its home market through close cooperation with manufacturers and research institutes and has been able to successfully put several hundred plants into operation. For the leap onto the European market, they have found a trustworthy and reliable partner in AICHELIN.
Last week, a cooperation agreement was signed in China between AICHELIN Ges.m.b.H. and SUZHOU KILNPARTNER Mechanical Technology Co.Ltd. The aim of the agreement is to jointly provide European battery manufacturers with the best heat treatment technology and to support them throughout the life cycle of their plants.
The two partners will meet at eye level in this cooperation and will have their own brand for the European market.
Mr. Xiaochun Fan, General Manager of KILNPARTNER Co. Ltd. remarked, "It is fortunate that we have met AICHELIN - a famous company that enjoys a high reputation in the world. We believe that through our joint efforts and by complementing each other's strengths, we can make a great contribution to the European market."
Michael Reisner, CEO of AICHELIN Ges.m.b.H. adds, "We at AICHELIN are very much looking forward to working with KILNPARTNER to successfully enter the growing battery powder market in Europe. It is very important to cooperate with KILNPARTNER, an experienced kiln manufacturer from China with many references, to professionally serve the upcoming demand, especially for the EV market."
For more information, please visit: https://www.aichelin.at/produkte/kontinuierliche-anlagen/batteriematerialien
About KILNPARTNER
Suzhou KILNPARTNER Mechanical Technology Co. Ltd., based in Suzhou in the eastern Chinese province of Jiangsu, was founded in 2011 and is primarily involved in technologies and plants for the thermal treatment of battery materials, ceramics, and magnetic materials. The company is China's market leader for lithium iron phosphate (LFP) thermal treatment plants and has developed, built, and successfully commissioned over 600 plants since its foundation. Numerous patents secure these developments. At a total of three sites in China with a production area of more than 60,000 m², the company employs around 170 people, including more than 100 engineers. http://www.kilnpartner.cn/?_l=en?
About AICHELIN Ges.m.b.H.
AICHELIN Ges.m.b.H., with headquarters in Mödling near Vienna is one of the leading European companies for atmospheric industrial furnace plants and systems for the heat treatment of metallic components. In addition to manufacturing industrial furnaces, the Austrian company with its 100 employees focuses on control and automation systems, Industry 4.0 solutions and service. The plants are mainly used in the fastening and fixing technology industry, the rolling bearing industry, the industry for precision small parts, the electrical components industry, in heat treatment facilities, as well as in the automotive and automotive supplier industry. www.aichelin.at
(end)