ptp20140113014 Technologie/Digitalisierung, Handel/Dienstleistungen
valuephone announces Bluetooth Low Energy-solution for mobile marketing
International launch at NRF 2014, world largest trade fair January 13-15, 2014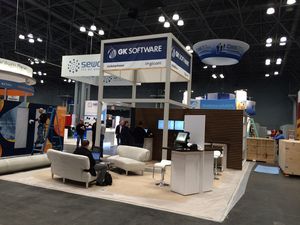 valuephone at retail trade fair NRF, New York 2014
New York, Berlin (ptp014/13.01.2014/15:25) valuephone, Europe's leading software company in mobile payment, mobile couponing and loyalty management in retail, presents today the first large-scale market solution for mobile marketing with Bluetooth Low Energy-Technology (BLE). The new valuephone solution "BLE CheckIn Cashier Information System 1.0" enables contactless transactions between the cashier and the consumer's mobile device in a shop. Retailers are now able to offer their consumers immediately coupons or bonus points within loyalty programs at the cashier. This mobile marketing application on BLE technology is valuephone's next innovation which is now ready for market deployment.
The new product "BLE CheckIn Cashier Information System 1.0" will be presented for the first time at NRF 2014 in New York, the largest trade fair in retail. valuephone exhibits since 2010 at NRF. The market deployment for Europe and Germany will take place at the trade fair "EuroShop 2014" in February in Düsseldorf. The company's next innovation will be a Mobile Payment-Solution on Bluetooth Low Energy-Technology for retail industry.
How BLE mobile marketing in retail works
Consumers which have a BLE-enabled mobile device, can do easily and contactless the check-in in the shop. At the checkout point, the checkout operator can select existing customers to offer further loyalty activities like credit points, coupons or discounts. Also, concrete suggestions in using loyalty programs can be made by the checkout operator to the customer, such as adding some remaining credit points in order to get attractive incentives. The promotion activities can be sent immediately and contactless on the customer's mobile device. Another tool of the loyalty management on BLE-technology is to offer consumers credit points for each check-in the respective shop.
"The new Bluetooth Low Energy technology will boost mobile applications in retail industry. This technology overcomes the limited duration of the battery in mobile devices. It also offers an always-on wireless connection within buildings. valuephone was one of the first software vendors, which developed and implemented mobile payment for all current mobile technologies and devices in the European market. As technology leader for mobile marketing and loyalty, we also have to be ahead in the Bluetooth Low Energy technology", says Stefan Krueger, General Manager and founder of German software specialist valuephone GmbH.
Mobile marketing on BLE technology shows many concrete advantages for consumers and retailers. Consumers get an easy and a fast, automatic and contactless way to benefit from loyalty programs. Long lasting identification processes are not anymore necessary. The wireless connection on BLE is often better than Internet or WLAN connections in buildings. Retailers get an excellent tool for direct marketing without high additional investments in hardware as scanners or others.
BLE technology enlarges the valuephone portfolio on mobile marketing and mobile loyalty
This mobile marketing solution on Bluetooth Low Energy Technology enlarges valuephone's existing portfolio for loyalty management in retail. To be a front runner in new technologies is the company's philosophy. Already four years ago, the software company has started pilot installations of mobile payment in the German retail market as the first company in Germany.
Bluetooth Low Energy Technology has the potential to become the next mega trend for mobile business and mobile marketing. Contactless interaction between retailers and consumers will ease applications such as mobile payment, self-scanning and self checkout or any loyalty program based on mobile devices. It could become the leading technology for all processes for mobile marketing.
About Bluetooth Low Energy (BLE)
Bluetooth low energy or Bluetooth LE, or BLE, marketed as Bluetooth Smart is a wireless computer network technology which is aimed at novel applications in the healthcare, fitness, security, and home entertainment industries. Compared to "Classic" Bluetooth, BLE is intended to provide considerably reduced power consumption and lower cost, while maintaining a similar communication range.
Press contact
Norbert Eder
Head of Corporate Communications
Germany 10117 Berlin, Friedrichstr. 204
Phone +49 37464 8451-0
Mobile +49 151 26405707
eMail neder@valuephone.com
Web http://web.valuephone.com
(end)