ptp20131218007 Technologie/Digitalisierung, Produkte/Innovationen
valuephone powers Austrian supermarket chain MPREIS mobile marketing app
valuephone expands to Austria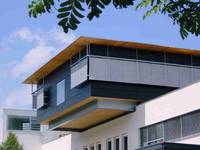 Mölk headquarters, Austria (Foto: Mölk)
Berlin (ptp007/18.12.2013/07:00) Austrian supermarket chain MPREIS has selected German mobile marketing and payment services provider valuephone to launch a new mobile marketing service: "the MPREIS shopping app". The mobile application is already available at all 228 MPREIS supermarkets and 160 bistros across Austria. App users can access special MPREIS offers and discounts, as well as search for particular products at MPREIS stores. App users can also access a 'Recipes' category within the mobile app. One click on the ingredients in the list, adds the product automatically to the shopping list.
The new mobile marketing service meets the MPREIS' customer requirements. Modern consumers use more and more smart phones or other mobile devices for information and organizing the shopping. The mobile device has become a digital shopping assistant. But MPREIS' mobile marketing service includes more than shopping services: customers can organize travels like cultural, sports or sightseeing trips. The app guides the customer direct to the travel agency, where reservations and bookings can be done by mail. The wide range of offers includes trips like visiting the Christmas Market of Munich, as well as Formula One races in 2014 or Musicals in Vienna.
Omni-channel-strategy based on the valuephone platform
With the new shopping-app, MPREIS enters into a mobile marketing and omni-channel-strategy. This mobile customer communication allows the supermarket chain to offer further mobile services to their customers. The MPREIS mobile app is based on the valuephone '360° Mobile Loyalty' cloud-based platform with white-label customer apps, and is available on Windows Phone, iOS and Android-powered devices. "Mobile Marketing fits excellent to MPREIS, because the company is very innovative in many areas", says Stefan Krueger, Managing Director of valuephone GmbH. "With the new mobile services we offer our customers manifold services and additional benefits of shopping at MPREIS. The new mobile service highlights MPREIS as an innovative supermarket with a strong regional link", adds Ingrid Heinz, Spokesperson of MPREIS.
International growth of valuephone
MPREIS is valuephone's first customer in Austria, and constitutes an important milestone for the company's international growth. Stefan Krueger: "Our platform is very flexible and scalable. Already now, we could run Mobile Couponing or Mobile Payment like we do in Germany in every other country". The Austrian super market chain was founded by Mrs. Therese Mölk in Innsbruck (Tirol region) in the early 1920th. Today, the family-owned company runs 228 supermarkets and 160 bistros, and has more than 5,300 employees. MPREIS shapes the food retailing segment through innovation and future oriented impulses. Modern architecture, a manifold and varied selection of products as well as an attractive price-performance-ratio contributes to MPREIS positive image as most popular supermarket in Tirol.
(end)