pts20170517027 Unternehmen/Wirtschaft, Handel/Dienstleistungen
HYBSE Premium Issuer Package - Limited To The First 100 Companies Only!
The Hybrid Stock Exchange offers a one time issuer package special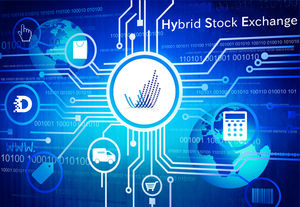 Hybrid Stock Exchange (Copyright: HYBSE)
Vanuatu (pts027/17.05.2017/15:30) HYBSE is informing new issuers they will be having a worldwide special for the next 100 approved companies on the HYBSE or OTC market for only Eur999 plus the annual participation fee of 0.15% of your total share value. If you are one of the chosen companies with this offer, you will not be required to pay an annual listing fee for the remainder of your term with the HYBSE.
Limited Offer for Companies (Issuers)
This will include additional features as stated below and will commence from the 2nd of May, 2017. Issuers will have to apply and be approved according to our specifications and will be required to go through the full registration process. This special will run for a limited time only; Issuers are encouraged to read up on this offer before the 100 positions are filled.
This memorable offer includes:
Premium Issuer Package (valued at Eur1000 per month)
Free Premium Online Marketing Package for 6 months (valued at Eur15,000)
Free Platinum Company Status for 3 months
Includes personal broker assistance
Free Personal Dedicated Support Manager
Free Registration
You should take advantage of this once-in-a-lifetime offer. For more information about the general prices list, please go here http://www.hybse.com/page/company-price-list or to sign up immediately go to this link (hybse.com/company/create). Should you require more information or need assistance, do not hesitate to contact them here http://www.hybse.com/page/contacts .
About HYBSE
The Hybrid Stock Exchange is an innovative online trading platform for already well-off societies, as well as for SMEs and start-up companies, to increase capital finance. Their focus is on giving small to medium companies the same opportunities to create a market evaluation and to raise capital.
Support Contact:
Robert Ndimande
Corporate Sales Manager
Hybrid Stock Exchange Corporation
Registered Address:
S.I.P. Building - Port Vila, Rue Pasteur
P. O. Box 3010
Vanuatu
Tel: +27 (0) 87 151 3822
Fax: +27 (0) 86 699 4004
(Ende)
| | |
| --- | --- |
| Aussender: | Hybrid Holdings (Pty) Ltd |
| Ansprechpartner: | Robert Ndimande |
| Tel.: | +27871513822 |
| E-Mail: | rn@hhpty.com |
| Website: | www.hybse.com |