ptp20151005013 Sport/Events, Produkte/Innovationen
dexwet wins Vice-Championship in NASCAR
CTO Peteln: Austrians' Day in Zolder Belgium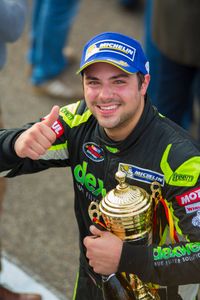 Vice-Champion in NASCAR Team Standings: Florian Renauer (© Andy List)
Zolder (ptp013/05.10.2015/11:10) - Solid performance of a solid team. In its second NASCAR Euro Series season on Ford Mustang, Sepp and Florian Renauer won the European Vice-champion in the team standings. After an exciting final in Zolder (Belgium) the annual ranking was established Sunday evening. 2nd place for the team led by the Austro-American filter manufacturer dexwet with 1160 points, just behind the Italian team GDL Racing with the other Austrians Philipp Lietz and Dominik Tiroch. http://hometracks.nascar.com/races/EURO
Also the drivers' standings are impressive for dexwet. After the last race in Zolder last weekend the 21 year old Florian Renauer placed in the elite class 1 with 571 points in 8th position, just behind Philipp Lietz with 575 points. In the rookie class Elite 2 Florian Renauer got 589 points and the 6th place, Philipp Lietz won the European Vice-champion with 663 points. In Zolder Florian Renauer won twice a 3rd place in Elite 2 and an 8th and 10th place in the two races of the premier class elite.
dexwet CTO Erich Peteln is pleased: "From the very beginning we have set on the right horses: We have the best car (Ford Mustang), the best filters (dexwet) and the best drivers (Renauer. Lietz, Tiroch). It is only a matter of time that we win the European championship in NASCAR." Racing boss Sepp Renauer adds: For us Zolder was a successful and dignified final of the racing season 2015, we look forward to the first racing on the Spielberg Ring in Austria next year. Hopefully we can inspire the Austrian fans. "
The racing commitment to the NASCAR Euro Series has already paid off for the Austro-American filter manufacturer dexwet. From the racing season 2016 on all cars in the European NASCAR series will be equipped with (motor) air filters by dexwet. For 2017, the equipment of the American NASCAR series is in the crosshairs of the manufacturer from Lower Austria. With more than 30,000 licensed racers in the US NASCAR series it is a high advertising value for dexwet.
More about dexwet
dexwet International AG specializes in innovative filter technology and holds about 50 patents in both the USA and Europe. Its unique filtering system effectively and reliably separates coarse, fine and micro-fine dust particles, featuring a very high air permeability. dexwet produces and markets fine particulate air filters for office equipment (printers, copy machines, fax machines), for the pharmaceutical industry, the gaming industry (slot machines) and the automated teller machine manufacturing industry. Since 2014, the company has been focusing on finding new solutions for the automotive industry and cabin air filters. http://www.dexwet.com
Information:
Clemens Sparowitz, Chairman & Chief Executive Officer
Email: c.sparowitz@dexwet.com
Tel. +43 (0) 699 10727575
More Videos: https://www.youtube.com/user/euroracecar
(end)