Nowea Energy Inc.: Oil wells USA / Listing at stock exchange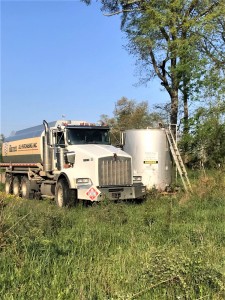 Oil pick up and delivery to refinery (c) Nowea Energy
Reno, NV (pta/02.05.2022/14:00 UTC+2)
As announced in our corporate news of Jan. 17, 2022, we would like to inform regarding our investment "Oil wells USA" as well to report about the status regarding the stock exchange listing of the shares.
Stock exchange listing
The registration procedure with the SEC Securities and Exchange Commission in the USA is in full swing. We are awaiting the approval of the registration documents soon. The shares will then be dematerialized and transferred into electronic stock. A corresponding agreement with a broker and market maker is already concluded. Please note the following important point: as announced in our Corporate News Oct. 21., 2021 (https://noweaenergy.com/clean-green-european-mining-project/), the optimal way as well possible alternatives for this transaction were discussed with our advisors (lawyers, auditors, etc.). It has been decided to take the route via a separate company. The aforementioned investment "Oil wells USA" is already contributed into this separate company (see below). It's planned to transfer the other NOWEA assets also into this company. The shareholders of NOWEA ENERGY INC. will then receive shares from this company listed on the stock exchange.
Oil wells USA
Our investment "Oil Wells USA" comprises a total of 17 oil wells in 6 so-called "leases", which are all located in the state of Kentucky. As mentioned above, these oil wells have been contributed into a separate company, which is currently seeking a stock exchange listing. The so-called "working interests", i.e. our proportion in this various oil wells, is between 75% and 100%.
Although comparatively little oil is currently being produced from the 17 wells in the leased areas, this investment is cash-flow positive from an operational point of view and is now, of course, also benefiting strongly from the current high prices for crude oil. In order to achieve stable and continuous oil production, the individual pumps are currently being fine-tuned. After that, we will be able to make reliable statements on the monthly production rates.
The total lease area covers almost 1,800 acres, corresponding to around 7.2 million square meters, and offers potential for a large number of new wells to be drilled. Currently we are evaluating various alternatives for developing the area.
Delay in business development due to the Corona pandemic as well various "fake news" on the Internet
The development of NOWEA ENERGY INC. as an internationally operating company had been unfortunately significantly slowed down by the Corona pandemic. In addition, NOWEA has a tight staffing situation and is primarly focusing on building and developing its investment portfolio.
For example, as informed several times in our previous corporate announcements, exists an investment in a potential boron lithium mining project. For reasons of confidentiality, NOWEA ENERGY INC. is only allowed to provide very limited public information on this project. This has also been disclosed several times. This circumstance, which cannot be attributed to NOWEA, as well as the above-mentioned delays in the business development have apparently led to a completely wrong picture in the public. This even culminates in the fact that NOWEA is accused of fraudulent behavior on the Internet. This is absolute nonsense and false. We are considering legal action, but taking action against false statements ("fakenews") and slander is not easy. We have also been informed that a company "Greenrock Financial", allegedly based in Cologne, Germany, has been making unsolicited telephone contact with our stockholders in order to offer them a share swap/share purchase of shares in another company. This has nothing to do with us and is, in our opinion, fraud. We explicitly warn to accept such offers.
Investor Relations / May 02, 2022
About NOWEA ENERGY Inc.: NOWEA ENERGY is an investment and private equity company with a strong focus on emerging, innovative companies. In particular we offer capital and expertise combined with a wide range of services to growth companies in the energy sector. Innovative companies from various future-oriented industries, such as mobility, e-mobility, energy, mining (strategic raw materials) as well as smart home and industry 4.0, are the focus of our investment. If necessary, further information can be obtained on the Internet at https://noweaenergy.com/
Disclaimer/Forward Looking Statements: This press release contains projections and other forward-looking statements regarding future events or our future financial performance. All statements other than present and historical facts and conditions contained in this release, including any statements regarding our future results of operations and financial positions, business strategy, plans and our objectives for future operations, are forward-looking statements (within the meaning of the Private Securities Litigation Reform Act of 1995, Section 27A of the Securities Act of 1933, as amended, and Section 21E of the Securities Exchange Act of 1934, as amended). These statements are only predictions and reflect our current beliefs and expectations with respect to future events and are based on assumptions and subject to risk and uncertainties and subject to change at any time. Any statements that express or involve discussions with respect to predictions, expectations, beliefs, plans, projections, objectives, goals, assumptions or future events or performance are not statements of historical facts and may be "forward looking statements". Forward looking statements may be identified through the use of words such as "expects", "will", "anticipates", "estimates", "believes", or by statements indicating certain actions "may", "could", "should" or "might" occur. Although we believe that our plans, intentions and expectations reflected in these forward-looking statements are reasonable, these plans, intentions and expectations may not be achieved. Actual results, performance or achievements could differ materially from those contemplated, expressed or implied by the forward-looking statements contained in this release and our filings with the SEC. Except as required by law, we undertake no obligation to update any forward-looking statement, whether as a result of new information, future events or otherwise. Forward-looking statements in this release are made pursuant to the safe harbor provisions contained in the Private Securities Litigation Reform Act of 1995. This information does not constitute an offer to sell or a solicitation of an offer to purchase any securities of the company. Readers of this information are requested to inform themselves about, and to observe, any possible restrictions.
(end)