pts20180705023 Kultur/Lifestyle
Unique Prince-piano up for auction on eBay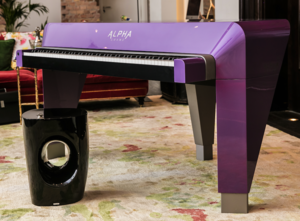 Purple ALPHA Grande built for prince (Copyright: ALPHA Pianos)
Vienna (pts023/05.07.2018/17:10) - The one of its kind hybrid-piano was made as custom build for late pop-legend Prince by ALPHA Pianos in 2016. Unfortunately, Prince was not able to receive the technically and visually unique hybrid-piano himself. After the super-stars death, it was used at the Prince memorial concert in the USA and played in the Paisly Park Memorial by long-time Prince-pianist Morris Hayes. Now the unique instrument with 97 keys is waiting for a new owner. A one time opportunity for musicians and prince-fans all over the world.
Today musicians, Prince fans and lovers of extraordinary musical instruments and stunning design will have the chance of a life-time: To get their hands on the only "purple" ALPHA Grand piano in the world - designed and built exclusively for Prince to his own specifications.
The iconic musician, who was known for his extravagant style, extraordinary musical talent and - of course - songs like "Kiss" and "Purple Rain", originally ordered the instrument for his "Piano & A Microphone Tour" through Europe. Unfortunately, Prince passed away shortly before the tour began and the piano could be delivered.
After Prince's death the piano was moved from Austria to the Paisley Park Memorial in Minnesota, where it was played by the musician's long time pianist Morris Hayes in memory of his outstanding career. The exclusive instrument has recently returned to Austria and is now available through auction.
Auction from 3 to 13 July 2018
The auction starts on 3 July on eBay and runs for 10 days.
ALPHA-Grand-Piano-purple-especially-produced-for-PRINCE-e-piano-hybrid-piano
The piano is currently valued at 75.000 Euros.
The "ALPHA Grand" - combining classic grand piano with innovative technology
The piano is a custom build and remains a unique piece with the serial number 000 in the series of ALPHA Grand pianos that are valued by musicians all over the world, such as Roger Hodgson, Chick Corea and Lenny Kravitz. It is painted in a distinctive metallic purple color, reminding of Prince's world hit "Purple Rain".
Besides the stunning design, the piano features the concert grand action of a classic grand piano and processes the keystrokes with innovative electronics. The company's patented technology uses pressure sensors instead of the strings used in regular pianos, that the hammers strike inside the piano.
The ALPHA Grand 97 Special Edition produced for Prince features the unusual number of 97 keys, unlike the 88 keys of a regular grand piano, and is based on the Keyboard compass of Concert grand piano action 97 by Renner. The sample library of the VSL Boesendorfer CEUS 97 piano was used for the sound.
Should you have any further questions, please contact:
Anjuli Patel
E-Mail: patel@skills.at
Tel: +43 1 505 26 25 - 90
The Skills Group - Die Kommunikationsgesellschaft
Web: http://www.skills.at
(end)