Singulus Technologies Aktiengesellschaft: Increased performance of solar modules with GENERIS PET:
SINGULUS TECHNOLOGIES Introduces New Coating Machine for Edge Passivation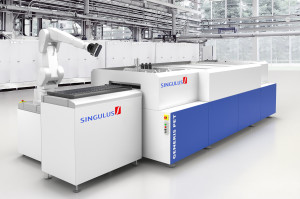 Photo: SINGULUS TECHNOLOGIES AG GENERIS PET
Kahl am Main (pta/05.06.2023/08:18 UTC+2)
Press Release
Increased performance of solar modules with GENERIS PET:
SINGULUS TECHNOLOGIES Introduces New Coating Machine for Edge Passivation
High throughput edge passivation process equipment
Improvement of solar cell efficiency up to 1 %
Optimization of overall performance through precise coating
Suitable for half-cells, multi-cells, and shingle cells
Technology to be presented at Intersolar Europe, Munich, Germany
Kahl am Main, 05 June 2023 - With the GENERIS PET vacuum coating system, SINGULUS TECHNOLOGIES offers a new process machine for the passivation of the cut edges of solar cells. It was developed to improve the efficiency in the processing of half-cell, multi-cell, and shingle cells. Edge passivation aims to improve efficiency by minimizing unwanted effects at the cut edges. Compared to unpassivated cut cells, the GENERIS PET coating system enables an efficiency increase of up to 1%. As an inline solution, which depending on the configuration can achieve, for example, a half-cell throughput of several GW per year, the system is suitable for various cell and cut formats and can be integrated into existing cell and module lines.
Dr.-Ing. Stefan Rinck, CEO SINGULUS TECHNOLOGIES: "Our GENERIS PET offers an industrially viable solution for edge passivation. It features high throughputs at low costs."
Dr. Rinck adds, "The machine can process half cells, multiple cells and also cell strips (shingle cells) after cutting. Our unique tray design allows processing of thousands of cell parts per tray with high packing density. In the process, the passivation layers are precisely applied to the cut edges without undesirable effects on the cell surfaces."
Half-cell and shingle technologies are becoming increasingly popular because they result in higher efficiency modules. By cutting the cells into smaller units, the electrical resistance of the metallization decreases, resulting in improved conductivity and higher efficiencies.
The application of Passivated Edge Technology (PET) can significantly increase efficiency even in half-cell modules. The effect is more pronounced with shingle cells. With shingle matrix technology, it is possible to break new ground for future-oriented modules. The constellation of cells in a matrix leads to a new benchmark for maximum efficiency and to unprecedented possibilities in module design due to the improved shading tolerance.
SINGULUS TECHNOLOGIES cooperates with the Freiburg-based company M10 Solar Equipment GmbH (M10SE) in the optimization of the shingle cell modules.
Visit SINGULUS TECHNOLOGIES at Intersolar Europe, booth number A2.520.
SINGULUS TECHNOLOGIES – Thin-Film Technology and Surface Treatment
SINGULUS TECHNOLOGIES develops and builds innovative machines and equipment for efficient production processes in thin-film technology and surface treatment, which are utilized world-wide in the markets of photovoltaics, semiconductors, medical technology, packaging, glass & automotive as well as batteries & hydrogen. The company's core competencies include processes of coating technology, surface treatment as well as wet-chemical and thermal production processes. SINGULUS TECHNOLOGIES views sustainability as an opportunity to position itself with innovative products. In the focus are:
• environmental awareness
• efficient use of resources
• avoidance of unnecessary CO2 pollution.
Responsible and sustainable corporate governance is very important to SINGULUS TECHNOLOGIES.
SINGULUS TECHNOLOGIES AG, Hanauer Landstraße 103,
D-63796 Kahl/Main, WKN A1681X / ISIN DE000A1681X5
Contact:
Maren Schuster, Investor Relations, Tel.: + 49 (0) 160 9609 0279
Bernhard Krause, PR, Tel.: +49 (0) 172 833 2224
E-Mail: bernhard.krause@singulus.de
(end)