pta20210504029
Business news for the stock market
Opus Chartered Issuances S.A.: nordIX funds to invest in loans intermediated on Fellow Finance's lending platform. Chartered Opus bond for investment
nordIX starts investing through Fellow Finance's platform.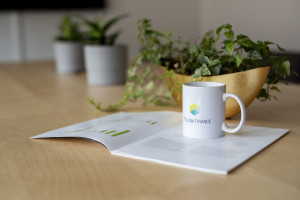 Fellow Finance cooperates with Nordix and Chartered Opus
Luxemburg, Helsinki, Hamburg, Düsseldorf (pta029/04.05.2021/15:37) - nordIX, Chartered Opus and Fellow Finance have agreed on a co-operation that will enable nordIX funds to invest in loans intermediated on Fellow Finance's lending platform. Chartered Opus issue notes which enable the investment by nordIX.
nordIX and Fellow Finance have agreed on a co-operation where Hamburg based nordIX AG, a fixed income specialist, will start investing in loans intermediated by Fellow Finance. The investment co-operation will enable nordIX to access investment opportunities on Fellow Finance's platform. The parties have initially agreed on terms aiming for 5 million investments in loans during the first three months of the co-operation. Chartered Opus facilitates the transaction by securitization of the intermediated loans into a tradable note and applying for listing in the open market at the Düsseldorf Exchange.
Claus Tumbrägel, CEO of nordIX: " We are very pleased to start investing with Fellow Finance into Finnish consumer loans for our recently launched fund "nordIX European Consumer Credit Fonds". Based on our extensive due diligence, we are convinced the risk return profile of Fellow Finance intermediated loans fits our investors needs and will be a strong basis for future growth of the nordIX European Consumer Credit Fonds."
Daniel Maier, CEO, Opus Chartered: "We are excited to be part of this project and the unique opportunity nordIX has created with the fund. Given our recent investments to further tailor our service offering to the needs of lending platforms and their potential investors we are glad that it is well perceived in the market."
Antoni Airikkala, Director, Investor Accounts: "We are extremely delighted to onboard nordIX to our lending platform and happy to enable access for the fund to invest in loans intermediated on Fellow Finance's lending platform. We regard nordIX participation as a sign that we can offer institutional investors a cost-effective way to diversify their overall investments in asset classes offered on our platform. NordIX investment expertise will also be valuable for us in future issuance and development of investment opportunities for institutions."
Further enquiries
Antoni Airikkala, Director, Investor Accounts, Fellow Finance, tel. +358 46 810 34 34
Claus Tumbrägel, CEO, nordIX, tel. +49 40 3099 776 0
Daniel Maier, CEO, Chartered Investment Germany, tel. +49 211 9367 8251
Certified advisor: Evli Bank Plc, tel. +358 40 579 6210
Fellow Finance Plc is a loan-based crowdfunding and peer-to-peer lending platform. The company's mission is to transform the traditional financing and payments to direct transactions between people and businesses. Fellow Finance has intermediated consumer and business financing of more than 750 million euros in Finland, Sweden, Denmark, Germany, Poland, and Czech Republic and served more than 950 000 customers. The company is regulated by the Financial Supervisory Authority of Finland as an Authorized Payment Institution and listed on the Nasdaq First North Growth Market Finland. www.fellowfinance.com.
ABOUT NORDIX
nordIX AG is a fixed income specialist dealing exclusively with bonds and derivatives. At the company's location in Hamburg, nordIX manages several mutual and special funds and develops intelligent investment opportunities. Besides managing own funds, nordIX is furthermore a successful and competent Advisor of single bonds and fixed income products for institutional customers.
ABOUT CHARTERED OPUS
Since 2013, Chartered Investment supports more than 100 B2B clients in their capital market businesses at 4 locations. More than 500 completed transactions and index solutions as well as over 2.75 billion dollars in securitized assets demonstrate the firms track record and makes it a leading provider to make Alternatives investible.
Chartered Investment operates Chartered Opus, a bank-independent, Luxembourg-based issuance platform for securitized investment products, which manufactures, structures, issues, services, and manages these products throughout their lifecycle. Read more at https://chartered-investment.com/en/.
(end)
emitter:
Opus Chartered Issuances S.A.
Rue Eugène Ruppert 6
2453 Luxemburg
Luxembourg
contact person:
Daniel Maier
phone:
+352 27 860372
e-mail:
daniel.maier@chartered-opus.com
website:
www.chartered-opus.com
stock exchanges:
free market in Dusseldorf
ISIN(s):
DE000A3KPTW3 (bond)