Aescuvest International GmbH: tackling diabetes mellitus with a smart treatment management solution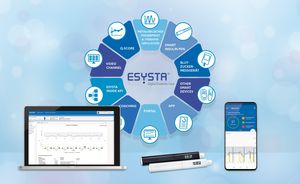 Smart diabetes management solution by Emperra GmbH E-Health Technologies
Potsdam, Frankfurt am Main (pta/06.11.2020/11:25 UTC+1) In Germany, approx. 50% of the more than 7 million diabetes patients, mainly with type 2 diabetes, do not achieve their therapy goals; for instance because they do not accurately document their blood glucose levels. As a result, their quality of life decreases while the risk of heart attacks, strokes and amputations increases. Digital healthcare applications (DiGAs) might be the solution: the ESYSTA technology by Emperra GmbH E-Health Technologies in Potsdam (Germany) and its holistic approach enables patients to adhere to their treatment plans and at the same time facilitates significant cost savings in the healthcare system. On 05.11.2020, Emperra will launch a financing campaign on the EIT Health supported platform, Aescuvest, which specialises in companies in the healthcare sector.

The figures are quite shocking: More than 7 million Germans suffer from type 2 diabetes, affecting around 35 % of all Germans over 60. Obesity and lack of exercise are causing a rapid increase in this widespread disease. Secondary diseases such as heart attacks, strokes and amputations are not only a personal tragedy, but also place a massive financial burden on the healthcare system.

To get diabetes mellitus under control and avoid secondary diseases, it is essential that patients independently take responsibility for documenting their blood glucose values in a diabetes diary. As a general rule, this takes place "analogously" on paper, but paper cannot fact-check and is easily misplaced. So as not to disappoint their doctors, patients often enter the values long after the actual measurement. However, these values are then often incorrect or incomplete. The relationship between doctor and patient frequently suffers from this misplaced embarrassment, as does the ability to make correct treatment decisions - something that should be entirely avoidable.

Diabetes management using smart devices - around the clock and online

Emperra GmbH E-Health Technologies of Potsdam has developed a system which is easy to use for technical laypeople. It" digitally" relieves the patient of most of the documentation effort and makes it easier for the doctor to analyse the data, around the clock and everywhere. Dr med Janko Schildt, founder and managing director of Emperra, commented: "We are the first company in the world to combine all the important tools for recording, monitoring and evaluating diabetes treatment and to make them digitally available to patients and doctors using wireless connectivity. Nevertheless, the technology is very easy to use, which was especially important to us with regard to older patients."

The ESYSTA ecosystem

Emperra GmbH E-Health Technologies has many strings to its bow, all of which are aimed at digitising diabetes management and making everyday life easier for patients and doctors. All ESYSTA products are approved medical devices in accordance with the valid quality standard ISO 13485. The information technologies and processes are certified in accordance with the highest standard ISO 27001.

* With the ESYSTA app, patients can always directly access their data, evaluations and all available services. Wirelessly connected blood glucose meters from various suppliers are also already integrated.
* The ESYSTA pen is the world's first smart insulin pen that records injected insulin units without errors and loads them wirelessly into the highly secure cloud as a data set. It can be used with all common insulins.
* A special automatic ESYSTA traffic light algorithm has been developed in cooperation with research institutes to enable simple treatment control and communication - the basis for further AI connections.
* Personal coaching by qualified diabetes advisors perfectly complements the algorithm-controlled instructions of the ESYSTA assistant in the app.
* The web based ESYSTA portal enables a valid and legally compliant remote treatment option for patients, doctors, diabetologists, etc. This is especially true in times of the Covid-19 pandemic, which is particularly dangerous for older patients with diabetes.
* The ESYSTA platform, which is currently under construction, will be expanded into a virtual diabetes centre in order to constantly expand the range of services offered to patients, doctors and treatment facilities through open interfaces and cooperation with third-party providers.

Emperra develops and distributes both hardware and scalable digital services for a trillion-dollar global market. The essential hardware components of the ESYSTA system, for which several international patents exist, are listed in the product catalogue of the GKV Spitzenverband (German National Association of Statutory Health Insurance Funds), i.e. they are reimbursed by the statutory health insurance companies. The company has already been fulfilling the requirements for "medical apps and software on prescription" (so-called DiGAs = digital healthcare applications) postulated in the recently passed German Digital Health Care Act (Digitale-Versorgung-Gesetz ) for many years, and Emperra therefore expects the software components to soon be reimbursed by the statutory health insurance companies.

ESYSTA saves time and money and reduces stress

The medical efficacy of ESYSTA has been proven. According to the START study (www.esysta-diabetes.com/wp-content/uploads/2019/10/Whitepaper-START_2020-web.pdf), ESYSTA users achieved an average reduction of 0.9 percentage points in long-term blood glucose HbA1c. In type 2 diabetes patients, the reduction was as much as two percentage points. For perspective: A reduction in HbA1c. of one percentage point reduces the risk of stroke by 14 %. The healthcare system can be estimated to save, on average, more than Eur 30,000 per patient over the treatment period.

Patients save time because the values are all automatically recorded and transmitted digitally and they benefit from remote medical treatment options. This can already be carried out completely safely with ESYSTA, which is becoming increasingly important, especially in times of Covid-19.

Public financing round on Aescuvest

The company has already convinced institutional investors such as Brandenburg Kapital, the venture capital firms Peppermint Venture Partners, Mutschler Ventures and others of its holistic approach. In order to tackle the next development goals and, first and foremost, the marketing of the ESYSTA app as a DiGA with Germany-wide reimbursement, Emperra is taking part in a public financing round on aescuvest.eu, in collaboration with EIT Health, which specialises in companies in the healthcare sector, and is presenting itself to investors. www.aescuvest.eu/project/emperra

Contact Aescuvest International GmbH

Olivier Gracia | e-mail: press@aescuvest.eu

Aescuvest is the first pan-European crowdfunding platform exclusively dedicated to the healthcare sector, a dynamic market that is large in size, exhibits sustainable growth rates and is driven by innovation. The platform offers retail investors, business angels and venture capitalists opportunities to make entrepreneurial investments in a promising market with above average returns. For start-up companies it serves as an independent launch pad to finance and market smart ideas, with the potential to directly target up to 550,000 healthcare professionals as well as the general public all over Europe. Based in the financial hub of Frankfurt, www.aescuvest.de was started as a platform for crowdfunding campaigns for Germany in 2015, bringing innovations in MedTech, Biotech, Health Service and Digital Health to life. In 2018, the start of www.aescuvest.eu marked the birth of the first platform to offer cross-border equity crowdfunding for healthcare companies and investors all over Europe: www.aescuvest.eu

Emperra GmbH E-Health Technologies is an e-health and medical technology start-up company from the Berlin metropolitan region. Emperra develops and markets innovative concepts and solutions in the fields of e-health and tele diabetology. Emperra combines innovative software with trend-setting hardware and integrates them into medical-scientifically sound overall solutions. In this way Emperra contributes to making it easier for patients, treatment teams and relatives to live with diabetes mellitus and to relieve society (health insurance companies) of costs in the long term.

EIT Health is a network of best-in-class health innovators approximately 150 partners and is supported by the European Institute of Innovation and Technology (EIT), a body of the European Union. We collaborate across borders to deliver new solutions that can enable European citizens to live longer, healthier lives.
As Europeans tackle the challenge of increasing chronic diseases and multi-morbidity, and seek to realise the opportunities that technology offers to move beyond conventional approaches to treatment, prevention and healthy lifestyles, we need thought leaders, innovators and efficient ways to bring innovative healthcare solutions to market.
EIT Health addresses these needs. We connect all relevant healthcare players across European borders - making sure to include all sides of the "knowledge triangle", so that innovation can happen at the intersection of research, education and business for the benefit of citizens. For more information visit: www.eithealth.eu

Disclaimer

This document is a customer information ("CI") within the meaning of the German Securities Trading Act, the "CI" is intended for natural and legal persons with a habitual residence or registered office in Germany and is used exclusively for information purposes.
This "CI" cannot replace individual investment and investor-oriented advice and does not constitute a contract or any other obligation or any kind of contractual offer. Furthermore, the contents do not constitute investment advice, an individual investment recommendation, an invitation to subscribe to securities or a declaration of intent or invitation to conclude a contract for a transaction in financial instruments. Nor was it written with the intention of providing legal or tax advice. The tax treatment of transactions depends on the personal circumstances of the respective client and may be subject to future changes. The individual circumstances of the recipient (including the economic and financial situation) were not taken into account in the preparation of the "CI".
An investment in the aforementioned financial instruments/investment strategy/financial services involves certain product-specific risks - e.g. market or sector risks, currency, default, liquidity, interest rate and credit risk - and is not suitable for all investors. Therefore, potential investors should only make an investment decision after a detailed investment consultation with a registered investment advisor and after consulting all available sources of information. For further information, you will find the "Essential Investor Information" and the securities prospectus here: www.aescuvest.eu
Past performance is not a reliable indicator of future performance. Recommendations and forecasts represent non-binding value judgements about future events and may therefore prove to be incorrect with regard to the future development of a product. The listed information refers exclusively to the time of the production of this "AI", a guarantee for the topicality and continuing correctness cannot be given. The information provided refers exclusively to the time of preparation of this "CI", no guarantee can be given that it is up to date and continues to be correct.
The above content exclusively reflects the opinions of the author; a change of these opinions is possible at any time without publication. The present "CI" is protected by copyright, any duplication and commercial use is not permitted. Date: 6th September 2020
Publisher: Aescuvest international GmbH, Hanauer Landstr. 328-330, 60314 Frankfurt am Main is acting as a contractually bound agent (§2 section 10 KWG) on behalf, in the name, for the account and under the liability of the responsible liable party BN & Partners Capital AG, Steinstrasse 33, 50374 Erftstadt. BN & Partners Capital AG holds a corresponding license from the Federal Financial Supervisory Authority (Bundesanstalt für Finanzdienstleistungsaufsicht) pursuant to section §32 of the KWG for the provision of investment advice pursuant to §1 section 1a no.1 of the KWG and investment brokerage pursuant to section §1 section 1a no. 1a of the KWG.
(end)