pta20190107020
Business news for the stock market
PCC SE: Chemicals producer PCC begins production of high-purity aerosol-grade dimethyl ether
The aim of the new 20,000 t/a plant in Russia is to develop the market for DME in Eastern Europe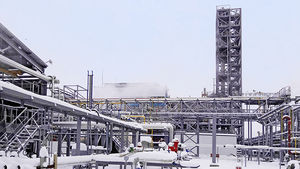 DME plant of PCC´s joint venture DME Aerosol, RUS (photo: PCC SE, Duisburg, GER)
Duisburg (GER) / Pervomaysky (RUS), 7 January 2019 (pta020/07.01.2019/16:13) - International chemicals group PCC SE, headquartered in Duisburg, commences production of high-purity dimethyl ether (DME) in aerosol quality. The annual capacity of the new DME plant at the Pervomaysky site in Russia's Tula region, about 180 kilometers south of Moscow, is 20,000 metric tons. The 50/50 joint venture DME Aerosol owned by PCC SE and its partner, the Russian chemicals concern JSC Shchekinoazot, successfully completed commissioning of the plant on 17 December 2018.
High-purity aerosol-grade DME is used primarily as an odorless and environmentally acceptable propellant in the cosmetics industry, for example in hair styling products, but also in the manufacture of structural polyurethane foam. "Our goal is to develop the market for DME in Eastern Europe," explains Waldemar Preussner, sole shareholder and Chairman of the Administrative Board of PCC SE. "The commissioning of the new DME plant underscores our strategy of realizing investment opportunities in lucrative, less competitive market niches." And Preussner is quick to add: "I am particularly pleased that, with the start of DME production just before Christmas, we were able to successfully complete another major investment project in 2018." Previously last year, PCC commissioned a state-of-the-art and environmentally compatible production plant for silicon metal in Iceland.
Boasting an annual capacity of 20,000 metric tons, the DME plant is located at the joint venture partner's manufacturing site in Pervomaysky in the Tula region. The modern methanol plants already in place there guarantee a secure raw material base for the new production facility.
Commissioning of the DME plant started in early December 2018, approximately one and a half years after the start of construction. Since 17 December, the plant has been operating stably while producing the required high-purity grade. Despite the cold weather conditions prevailing in Russia, with temperatures as low as minus 17 degrees Celsius, commissioning was successfully completed on 17 December with commencement of full production immediately following.
About PCC - https://www.pcc.eu
Headquartered in Duisburg (Germany), PCC SE is an investor aligned to the long term. As a multi-investment enterprise, PCC has a diversified portfolio of Group companies primarily active in the production of chemical commodities, specialty chemicals and silicon metal. It also has major interests in the field of container logistics. PCC was founded in 1993 by Waldemar Preussner, who is today its sole shareholder and Chairman of the Administrative Board of PCC SE.
With more than 3,400 employees in 18 countries, the PCC Group generated consolidated sales of around EUR 683.2 million in 2017, exceeding the prior-year figure by some 20 percent. The majority of these revenues, around 85 percent, was generated by the five segments of PCC's Chemicals division Polyols, Surfactants, Chlorine, Specialty Chemicals and Consumer Products, operating primarily at sites in Central and Eastern Europe, predominantly in Poland. Earnings before interest and other financial items, taxes, depreciation and amortization (EBITDA) generated by PCC in 2017 came in at EUR 73.8 million. In the first nine months of 2018 Group sales rose to EUR 590.7 million and EBITDA to EUR 77.6 million. Group capital expenditures in 2017 amounted to EUR 101.4 million, mainly for the construction of a state-of-the-art and environmentally compatible silicon metal plant in Iceland and for further expansion in its chemical production activities. By the end of the third quarter of 2018, the total investment volume for the year to date was EUR 128.4 million.
The largest Group company is PCC Rokita SA, which has one of Poland's biggest chemical plants near Wroclaw. Among other things, it is a major producer of chlorine and its follow-on products and Eastern Europe's leading manufacturer of polyols. Polyols from PCC Rokita SA are employed in the production of polyurethane (PU) foams for a wide range of applications. Another Group subsidiary, PCC Exol SA, is one of the most advanced producers of surfactants in Central and Eastern Europe. These surface-active substances are essential components of, for example, detergents, cleaning agents and personal care products. PCC Exol SA has over 200 surfactants in its portfolio to serve a wide variety of requirements. In the Group's Logistics segment, PCC container transport services working out of five wholly owned intermodal terminals connect a number of international destinations.
(end)
Emitter:
PCC SE
Moerser Straße 149
47198 Duisburg
Germany
Contact Person:
Susanne Biskamp-Pilch, Head of Marketing & PR
Phone:
+49 2066 2019-35
E-mail:
susanne.biskamp-pilch@pcc.eu
Website:
www.pcc.eu
Stock Exchanges:
open market (free market) in Frankfurt
ISIN(s):
DE000A2NBFU2 (bond), DE000A2NBJL3 (bond)