graceNT AG: SISSEL contribute to ALDAVIA® the triangular "Brain & Body" training concept
Close cooperation of experts in mental and physical health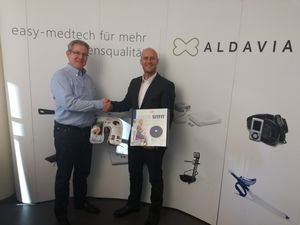 SISSEL sales manager O.Willems and ALDAVIA® sales manager M.Essl (photo:graceNT)
Rotkreuz (pta/07.12.2016/16:30 UTC+1) graceNT AG (WKN/A14WW0) announces a cooperation agreement with SISSEL GmbH. This provides an unprecedented combination of mental and physical health products.The triangular ALDAVIA® training concept combines integrated mental strength with physical fitness and emotional stability. Lasting personal well-being cannot be achieved by employing disconnected strategies. The triangular ALDAVIA® concept is based on a holistic approach which synchronizes and orders the three major pillars of human health and wellbeing which are the mental, the physical and the emotional.

As networked health studios, the ALDAVIA® Studios focus on connected mental and physical issues. Here, medical experts advise and supervise their clients, and make sure a functional diagnosis is made and training concepts for best possible results are tailored, delivered and reviewed. Not only clients who wish to take charge of their health themselves can benefit from the ALDAVIA® concept, but also forward thinking companies, senior residences and hotels can opt for "Branded-in-Stores" or individual devices and thus offer true value to their employees, clients and guests.

"The integration of SISSEL's products into our triangular ALDAVIA® training concept increases our competence in the area of self-served physiotherapy analysis and therapy. We can now offer our clients even more efficient individually tailored health solutions in the BODY FITNESS area," says Mag. Matthias Essl, sales manager at ALDAVIA®.

"Thanks to the cooperation with ALDAVIA®, we can now deploy our physiotherapy, health and medical fitness products within the unique triangular ALDAVIA® "Brain & Body" training studios which this opens an exciting new sales channel for us," explains SISSEL Managing Director Jens Friebel, and I look forward to working with graceNT one of the most innovative health companies.

graceNT AG - about the company
graceNT AG, based in Rotkreuz/Switzerland, has a vision; a world in which everyone has easy access to personalized medical technology and can therefore age in a healthy, vital and autonomous manner. The focus lies on medical technology, especially for the "secondary health market" (privately financed health care) with ageing people as its target group.
The company acquires and develops interest in innovative, established producers of medical products in Germany, Austria and Switzerland. graceNT AG invented the triangular "Brain & Body" training concept ALDAVIA®, and is considered a pioneer in the sector of personalized and integrated training concepts for mental and physical fitness.
Innovative ALDAVIA® Wellness services including modern neuro-feedback-solutions, make it possible for clients to stay healthy and use holistic fitness methods either at home, at work or at one of the ALDAVIA® branded City Studios. Companies can install ALDAVIA® in-house to deliver occupational psychological and health care to their employees, thus achieving stress reduction and increased personal well-being of their staff.

SISSEL GmbH - about the company
SISSEL® fitness, wellness and healthcare products - the natural way of Sweden
More than 500.000 customers in the sectors of physiotherapy, health and medical fitness, as well as millions of end-users trust in the "natural approach" of SISSEL® quality products, which are still manufactured in over two thirds of Europe (mainly Sweden and Germany). SISSEL has become one of the largest and most innovative suppliers of end-user health products in the health, wellness and fitness sector, as well as a competent partner for physiotherapy and Pilates concepts and equipment.
(end)